"Hysterical Women" v "Outspoken Men": Billie Jean King Calls Out The Double Standard in Women's Tennis
Tennis legend Billie Jean King has waded in to the worldwide debate, after Serena Williams alleged she was the victim of sexism during her US Open final defeat to Naomi Osaka.
Williams, who was battling for a record-equalling 24th Grand Slam title, was furious when she was given a coaching violation early in the second set from umpire Carlos Ramos after a hand gesture from her coach Patrick Mouratoglou, which according to those in the know, happens regularly in the professional circuit.
She was then docked a point for a second violation when she smashed her racket. Continuing her argument with Ramos at the next change of ends, Williams accused him of being a thief for taking a point away from her.
Ramos gave her a third violation, which resulted in a game penalty, putting Osaka 5-3 ahead. A tearful Williams argued her case with tournament officials but, although she held serve in the next game, Osaka served out the victory 6-2, 6-4.
Here's Serena's reaction to being accused of a coaching violation:
"I don't cheat, I didn't get coaching. How can you say that? You owe me an apology, you owe me an apology. I have never cheated in my life. I have a daughter and I stand for what's right for her and I have never cheated. And you owe me an apology. You stole a point from me, you're a thief too."
And here's why she considered the issue one of sexism:
This is not fair, this has happened to me too many times. This is not fair. To lose a game for saying that, it's not fair. How many other men do things? There's a lot of men out here who have said a lot of things. It's because I am a woman, and that's not right. Because I'm a woman, you're going to take this away from me? It's not right. It happens to me at this tournament every single year, it's not fair. That's all I'm saying
At a tearful trophy ceremony, during which the crowd repeatedly booed, Williams comforted Osaka and praised her for her win, acknowledging that 2018 had been a tough year for her.
Tennis World Reaction
Tennis legend, Billie Jean King, sparked a huge debate on Twitter today when she called out the reaction from some quarters of the press. "When a woman is emotional, she's "hysterical" and she's penalised for it. When a man does the same, he's "outspoken" and their are no repercussions". But her view wasn't shared by all.
American former world number four Brad Gilbert:
This is so sad and especially for Osaka on her tremendous level throughout the tournament. The coaching violation was ridiculous – [Serena Williams] never saw it and it looked liked absolutely nothing. Seen 50x worse and not called. Osaka was two games from the finish line, let the match play out.
British number four Liam Broady:
I think incredibly strong from the umpire to not be intimidated by a GOAT [greatest of all time] of the game and hand out the game penalty. You shouldn't talk to anybody in this way whether they're an umpire or person on the street. Absolutely gutted for Osaka. Has had this moment snatched away from her, hardly smiling lifting the trophy.
Serena Williams' coach Patrick Mouratoglou: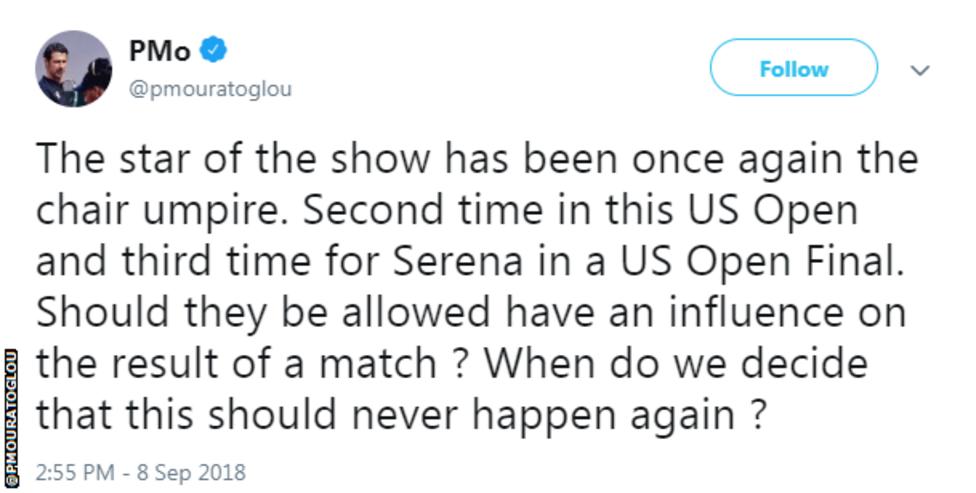 British former tennis player Andrew Castle:
Serena Williams was fined $175,000 after the 2009 US Open semi-final meltdown v Clijsters. This will be hefty too. Not sure how any unbiased observer who knows the rules and history of tennis can look at what happened and defend Serena.
Two-time Grand Slam champion Victoria Azarenka:
If it was a men's match, this wouldn't happen like this. It just wouldn't.
Japanese Reaction
In a surprise and welcome turn, the Japanese take on the incident, in an editorial from leading publication The Japan Times, was a call for recognition of the double standards in women's sports, and to use Osaka's win as a beacon for the merits of diversity.
"Osaka is the first Japanese person to win a Grand Slam title but her stunning victory has been overshadowed by the controversy surrounding the treatment of Serena Williams, her opponent in the final. Osaka deserves better — the attention rightly belongs on her — but the match itself was a reminder of the double standards that mark women's sports and the behavior expected of women in society more generally. Japan should ponder the meaning of this exceptional athlete."
"In a country in which 2 percent of all births are to biracial couples, Japan needs to better appreciate its diversity and the richness and opportunity it creates."